Top offers at Wangaratta VIC
Coles

Great Value. Hands Down. - 29th November

Kmart

Christmas Toys 2 - Low prices for life

The Reject Shop

Christmas Items

BIG W

Make Their Christmas Wishes Come True 30/11

Coles

Selected Weekly Specials 29/11

Kmart

Christmas Launch 2 - Low Prices For Life

Kmart

Summer - Low prices for life

Officeworks

Get Great Value On New School Tech.

Godfreys

Christmas Sale 01/12

Officeworks

Officeworks BYOD Collection

Coles

Share The Best with John West
What offers can I find in Wangaratta VIC?
Find the best discounts offered by your favourite shops in Wangaratta VIC on Tiendeo. See the flyers from Woolworths, Coles, ALDI and don't miss out on any online discounts. Here on Tiendeo, we currently have 280 active catalogues in Wangaratta VIC and 111 shops.
Wangaratta VIC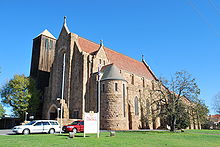 Wangaratta is a centrally located city in the North-East of Victoria, Australia. The wine and gourmet food industry located nearby has a huge influence on the culture of Wangaratta. Things to do in Wangaratta include exploring the gold rush township; visiting the wine cellar doors, taking heritage walk or feeding the ducks in the sunken Merriwa Park.
Wangaratta is a renowned shopping hub that comprises of numerous national as well as local retailers, specialty shops and boutiques. Visit major fashion retailers at Wangaratta shopping Centre like Harvey Norman, Telstra Shop, Permewans, Mensland, Just Jeans, Jay Jays, Jeans West Sportspower, Suzanne Grae and Sussans.
The Wangaratta shopping guide also includes chief Wangaratta shops like Coles, Big W, KMart, Safeway, IGA, Aldi, Sam's Warehouse, and Super Cheap Auto among others. This is not all, shoppers must also visit the local outlets as they feature furniture to fashion accessories from both national and international retailers.