Top offers at Wagga Wagga NSW
Woolworths

Weekly Specials - 06/12

Coles

Selected Weekly Specials 6/12

Kmart

Refresh Summer - Low Prices For Life

Kmart

Christmas Gifting 2 - Low Prices For Life

BIG W

Make Their Christmas Wishes Come True 30/11

The Reject Shop

Christmas Items

The Good Guys

Portables 05/12

Kmart

Christmas Toys 2 - Low prices for life

Kmart

Christmas Launch 2 - Low Prices For Life

Foodworks

Picks Of The Week

Myer

Make Your Merry Meaningful - Christmas 4
What offers can I find in Wagga Wagga NSW?
Find the best discounts offered by your favourite shops in Wagga Wagga NSW on Tiendeo. See the flyers from Woolworths, Coles, ALDI and don't miss out on any online discounts. Here on Tiendeo, we currently have 528 active catalogues in Wagga Wagga NSW and 254 shops.
Wagga Wagga NSW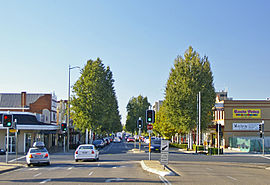 Wagga Wagga is an important city located in New South Wales. The small city is known for producing several prominent Australian sportsmen. If you are travelling to Wagga Wagga, you must visit the sandy beaches of Murrumbidgee River. Lake Albert and WaggaWagga Civic Theatre are two other important landmarks that score high on visitor's lists.
You can go to Baylis Street if you like the idea of street shopping. Apart from several fashion stores and custom boutiques, you can shop at Woolworths and Big W. For mall and brands lover, there are Wagga Wagga market place and Sturt Mall. Kmart, Rodney Clark, Seona Madison, Valley girl and Roger David are just some of the retail stores that you can find in these shopping malls.
If you are planning to visit any of these shopping malls, it is a great idea to look for online vouchers and catalogues of these stores. These stores bring out new and attractive offers for their prospective customers.