Shopping centres in Victor Harbor SA View more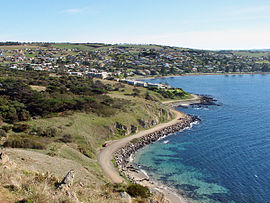 On the coastline of Southern Australia, lies a small popular city of Victor Harbor. A home to just about 10,000 odd people during the rest of the year, Victor Harbor's summer population rises four fold in the summer.
Granite Island is a popular site for Whale spotting, Green Hills Natural Park for all the adventure enthusiasts, and Port Elliot for the peace seeking souls.
To quench all the shopaholics, there is Victor Harbor Shopping Center, which includes products from fashion, to electronics, to groceries, to home ware products, to beauty treatment services. KFC, Strand bags, Surf Shop, Big W, are among a few famous brands in the VHSC. Victor Harbor Country Market takes place on every 2nd and 4th Sunday of the month.
Victor Harbor has emerged as a destination for all, from beach lovers, to sports enthusiasts, to the shoppers of all ages. It wouldn't be a surprise to see many established retail chains opening up soon in Victor Harbor.