Top offers at Ulverstone TAS
Woolworths

Weekly Specials - 06/12

Coles

Great Value. Hands Down. - 6th December

Coles

Selected Weekly Specials 6/12

Harris Scarfe

Christmas Countdown

Kmart

Refresh Summer - Low Prices For Life

Kmart

Christmas Gifting 2 - Low Prices For Life

The Reject Shop

Christmas Items

Kmart

Christmas Launch 2 - Low Prices For Life

Cellarbrations

Christmas Drops That Always Hit The Spot 04/12

Kmart

Christmas Toys 2 - Low prices for life
What offers can I find in Ulverstone TAS?
Find the best discounts offered by your favourite shops in Ulverstone TAS on Tiendeo. See the flyers from Woolworths, Coles, Kmart and don't miss out on any online discounts. Here on Tiendeo, we currently have 369 active catalogues in Ulverstone TAS and 227 shops.
Ulverstone TAS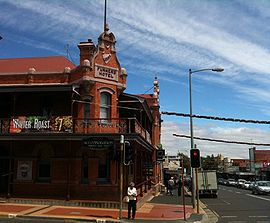 Ulverstone is a beautiful town located in the Northwest coastal region of Tasmania, Australia. Check out the top Ulverstone attractions like Leven Canyon, Ulverstone History Museum, Goat Island Sanctuary, Wings Wildlife Park and Preston Fall. Enjoy activities like swimming, surfing, fishing and boating at the beaches and river when in this beautiful city.
Visit the fashion stores in Ulverstone like Maveric Clothing, Hannah-Jane Boutique, Maria's Alterations, Harris Scarfe, Beach Beat, Lush Bridal, Sussan, J.R's Boutique to get the best of fashion clothes and accessories. If you are looking for gifts then visit other shops based in Ulverstone such as Cranberry Crafts, Begents, PennYvonne Flowers, Lee's Jewelry, Eye Style and Window on the World – Bookstore.
For the home and grocery needs, Coles Ulverstone should be your choice. It is one of the biggest retail outlets of the region that provides for all the household grocery needs with fresh products. The Reject Shop Ulverstone is a prominent branch of Australia's largest discount store that houses a wide range of products by numerous brands at affordable prices.