Top offers at Torquay VIC
Woolworths

Weekly Specials - 06/12

Coles

Great Value. Hands Down. - 6th December

Coles

Selected Weekly Specials 6/12

Kmart

Refresh Summer - Low Prices For Life

Kmart

Christmas Gifting 2 - Low Prices For Life

BIG W

Make Their Christmas Wishes Come True 30/11

The Reject Shop

Christmas Items

The Good Guys

Portables 05/12

Kmart

Christmas Toys 2 - Low prices for life

IGA Liquor

Add A Drop To Your Shop This Christmas 06/12

Kmart

Christmas Launch 2 - Low Prices For Life
What offers can I find in Torquay VIC?
Find the best discounts offered by your favourite shops in Torquay VIC on Tiendeo. See the flyers from Woolworths, Coles, ALDI and don't miss out on any online discounts. Here on Tiendeo, we currently have 598 active catalogues in Torquay VIC and 586 shops.
Torquay VIC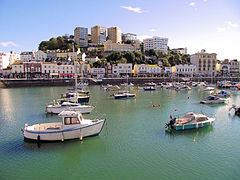 The beautiful coastal town of Torquay is located in Victoria, Australia. It is the getaway to famous Great Ocean Road. Torquay is home to world-renowned surf beaches like Bell's beach, Point Impossible beach, Jan Juc beach, Addistoc beach, Bancoora beach and Southside beach. The Offshore festival of Torquay has gained massive popularity over the years.
Torquay Surf City Plaza is the ultimate shopping paradise for surfers at it comprises of numerous surf shops like Rip Curl, Quicksilver, Surf Shop, Surf Wear, Safeway, Patagonia, Roxy, Billabong, Beach Crew, Gash & Rojo and Oakley. The shopping plaza also houses the Surf World Museum that is a big attraction.
Torquay shopping stores include fashion stores like Collections, High Tide, Off Clothing, Max power, Witchery, Dott, Jacqui E, Jay Jays, Beach Club, Rhubarb and others. Besides, other shops based in Torquay are Kmart, The Laboratory, Villa & Hut , Salt Homeware, Target, Big w, Myer and many others. This shopping center is your one stop-shop for all your family and home needs.