What offers can I find in Taree NSW?
Find the best discounts offered by your favourite shops in Taree NSW on Tiendeo. See the flyers from Woolworths, Coles, Kmart and don't miss out on any online discounts. Here on Tiendeo, we currently have 260 active catalogues in Taree NSW and 201 shops.
Taree NSW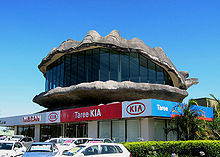 Taree is a marvelous coastal city that is besieged by many stunning beaches. Set on the banks of the Manning River, Taree offer stunning world-class Oyster artifacts and beautiful landscape set against the rolling hills. Indulge in famous Taree activities like Boating, fishing, swimming and surfing.
Explore the natural habitat and relish the sceneic beauty of Teree. Spend an adventurous night at the Taree caravan parks in a tent, caravan or a wooden cabin. The place will not disappoint the shoppers as the Taree central mall is the ultimate one-stop location for all your shopping needs. It includes stores like Body Bliss, Big W, Home art, Jay Jays, More than gifts, Katies, Noni B, Priceline, Woolworth and more.
If your urge to shop is not quenched, then head to Manning Mall. This mall is the house to brands like Ally Fashion, Autograph, Cheree's Beauty, Cotton On Body, Crossroads, Jodadi, Liquorland, Lowes and many more. So, be it fashionable clothes, accessories and shoes this mall will not disappoint you.
Electronics & Appliances

Travel & Leisure