Top offers at Port Lincoln SA
Woolworths

Weekly Specials 06/12

Coles

Great Value. Hands Down. - 6th December

Coles

Selected Weekly Specials 6/12

Kmart

Christmas Gifting 2 - Low Prices For Life

Kmart

Refresh Summer - Low Prices For Life

Kmart

Christmas Launch 2 - Low Prices For Life

Kmart

Christmas Toys 2 - Low prices for life

TerryWhite Chemmart

Real Deals This Christmas - Standard

TerryWhite Chemmart

Real Deals Carousel - Catalogue Out Now

PopCorners

PopCorners 5 Packs, 2 for $7
What offers can I find in Port Lincoln SA?
Find the best discounts offered by your favourite shops in Port Lincoln SA on Tiendeo. See the flyers from Woolworths, Coles, Kmart and don't miss out on any online discounts. Here on Tiendeo, we currently have 303 active catalogues in Port Lincoln SA and 102 shops.
Port Lincoln SA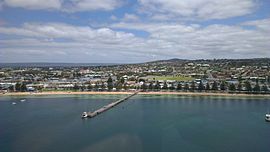 The gorgeous Australian coastal city of Port Lincoln is situated on the shore of Boston Bay that opens to the Spencer Gulf. As the largest city on the west coast region, it includes many attractions like Port Lincoln caravan park, Lincoln National Park, Coffin Bay National Park, Glen Forest Tourist Park, Mikkira Station and Koala Park. Port Lincoln is famously referred to as the 'Seafood Capital of Australia'.
Port Lincoln shopping center houses stores like Target, Kmart, Coles, Jay Jays, Ween Jewelers, Spendless Shoes, Millers, Betts & Betts, Wendy's, EB Games, Toy World and many more. Don't forget to Shop at Port Lincoln's local fashion stores like Ruby Kate, Coco & Cactus, Jeans N Gear, Chilli Pink, Choices Boutique, Uptown Girl and many others to get the best fashion clothes and accessories.
Visit other specialty shops in Port Lincoln like Liquorland, Bottlemart, Sportspower, Coles, K Mart and more. If you want to pick up local gifts and souvenirs then visit stores like Mermaid Gifts & Homeware, Mistique, Smokeart and Gift shop, The Patchwork Pear, Pandora's Box and Mangolia Tree.