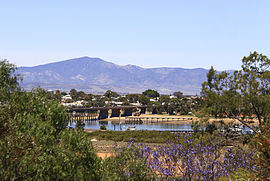 Port Augusta, located in South Australia, is a gorgeous seaport city. Explore the city by visiting attractions like Arid Land's Botanic Garden, Red Cliffs, Lookout Tower, Foreshore and also take the heritage walk with your friends and family.
Check out the Wadlata Outback Centre, a major tourist attraction, which includes Flinders Ranges & Outback as well as the mind-blowing "Tunnel of Time". The Wharflands Plaza is an ultimate shopping destination offering stores like Big W, Rockmans, Woolworths, The Reject Shop, Spendless Shoes, Smokemart & Giftbox and many more.
Shopping stores in Port Augusta shopping center comprises of Sportspower, Toy World, Target, Toy kingdom, Coles, Avis, Liquorland, Chemplus and many more. It is also home to many fashion stores like Uptown Girl, Lingerie Bar, Just Jeans, Curves, Carlton Parade, George, Cooper Street, Talulah, Keepsake, Honey & Beau, Seafolly, Wish and Finders keepers. These stores feature chic and elite collection for women, men and children.