Woolworths

Weekly Specials - 06/12

Coles

Selected Weekly Specials 6/12

BIG W

Make Their Christmas Wishes Come True 30/11

Kmart

Christmas Gifting 2 - Low Prices For Life

Kmart

Refresh Summer - Low Prices For Life

Coles

Great Value. Hands Down. - 6th December

The Reject Shop

Christmas Items

Kmart

Christmas Launch 2 - Low Prices For Life

Kmart

Christmas Toys 2 - Low prices for life

Officeworks

Get Great Value On New School Tech.

IGA Liquor

Add A Drop To Your Shop This Christmas 06/12

Foodworks

Picks Of The Week
What offers can I find in Orange NSW?
Find the best discounts offered by your favourite shops in Orange NSW on Tiendeo. See the flyers from Woolworths, Coles, ALDI and don't miss out on any online discounts. Here on Tiendeo, we currently have 477 active catalogues in Orange NSW and 192 shops.
Orange NSW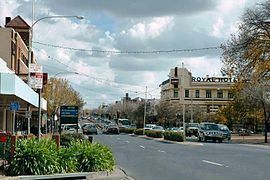 Orange Region is a welcoming city that is rich in local history, fruitful landscape, flourishing cultural scene, historical buildings, and art and culture. Also, it is the house to some of the acclaimed restaurants and wineries.
The Orange City Centre is recognized in the Central West region as the fashion hub. This City Centre is home to big brands such as Big W, Myer, Angus and Coote, Suzanne Grae, Kanzi and a host of other quality specialty stores. Close to Orange, there is another shopping paradise, the 2 Fat Ladies. This Orange shopping mall is a riot of colors and home to fashion names like Threads and Clarity, Vigorella, RTM and Cordelia St. Also, the range of jewelery, accessories and handbags is quite amazing.
Orange NSW Orange is the house of many local markets where you can find some cool gift shops such as Worldly Treasures and Caboodle of Orange. Before shopping here don't forget to check online for the deals and discounts on brands. Some times the orange shopping malls have their special deals, so don't forget to check with the customer care desk to know about the latest deals and discounts.