Top offers at Murray Bridge SA
Woolworths

Weekly Specials 06/12

Coles

Great Value. Hands Down. - 6th December

Coles

Selected Weekly Specials 6/12

Kmart

Refresh Summer - Low Prices For Life

Kmart

Christmas Gifting 2 - Low Prices For Life

The Reject Shop

Christmas Items

Kmart

Christmas Toys 2 - Low prices for life

Kmart

Christmas Launch 2 - Low Prices For Life

Cellarbrations

Christmas Drops That Always Hit The Spot 04/12

BIG W

30/11 Make Their Christmas Wishes Come True
What offers can I find in Murray Bridge SA?
Find the best discounts offered by your favourite shops in Murray Bridge SA on Tiendeo. See the flyers from Woolworths, Coles, ALDI and don't miss out on any online discounts. Here on Tiendeo, we currently have 268 active catalogues in Murray Bridge SA and 119 shops.
Murray Bridge SA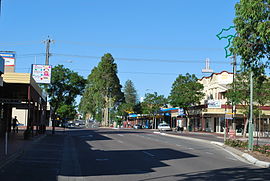 The South Australian City of Murray Bridge is located 76 kilometers Southeast in the capital city Adelaide. There is something for people of all ages and tastes. When in Murray Bridge you must explore Monarto zoo, Sturt Reserve, Captain's Cottage Museum, paddleboat cruise as well as the Cottage Box Chocolates.
Visit the Sanctuary on the seventh coffee shop plus fair trade store offering locally produced crafts, foods, giftware and small art gallery. Shop at Murray bridge shops like Blight & O'Neil Men's land, Blue Pepper Boutique, Jay Jay's Trademark and Sea Side Casuals At The Bridge.
Enjoy a retail therapy at Murray Bridge Marketplace that includes stores like Woolworths, Big W, Cotton On, Miller's, Jeans West, Spendless Shoes, Strandbags and others. If you further want to indulge in shopping spree head to The Bridge Plaza shopping center as it houses brands like Target, Jay Jay's, Wendy's and Cheap as Chips among many others. The Murray bridge shopping center opening hours are between 9am to 5:30pm.
Murray Bridge Green Shopping Centre is a one-stop shop for all your shopping need with shops like Mystical Flair, Target, Sportscene, Smokemart & Giftbox, Woolworth, Thristy Camel and many more.