Top offers at Mount Isa QLD
Coles

Great Value. Hands Down. - 29th November

Kmart

Christmas Toys 2 - Low prices for life

Coles

Selected Weekly Specials 29/11

Kmart

Christmas Launch 2 - Low Prices For Life

Kmart

Summer - Low prices for life

Cellarbrations

Christmas Drops That Always Hit The Spot 20/11

Coles

Share The Best with John West

Foodworks

Picks Of The Week

PopCorners

PopCorners 5 Packs, 2 for $7

Kincrome

Product Guide 2022/23
What offers can I find in Mount Isa QLD?
Find the best discounts offered by your favourite shops in Mount Isa QLD on Tiendeo. See the flyers from Woolworths, Coles, Kmart and don't miss out on any online discounts. Here on Tiendeo, we currently have 217 active catalogues in Mount Isa QLD and 99 shops.
Mount Isa QLD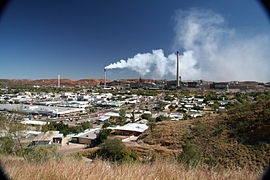 Mount Isa of Queensland, Australia is an attractive mine city that has grown to become an appealing tourists destination. It has gained massive popularity as the "Rodeo Capital of Australia" for hosting the Mount Isa Rodeo and Mardi Gras Street parade every year during a weekend in August.
Mount Isa shopping center is located in the city center and easily accessible. Mt. Isa plaza shopping center houses stores that offer books, fresh food, cafes, art, jewelry, furniture and more. Shopaholics must head towards Isa Square, Midtown Plaza, Turanga Shopping Center and Overlander shopping center.
Besides, many local fashion stores are also available that feature fashionable apparels and accessories. Numerous shops in Mount Isa offer souvenirs and gifts like CMQoz store, Chantilly ream, Bella Duck among others. So, don't forget to get something for all your loved ones.