Top offers at Mildura VIC
Woolworths

Weekly Specials - 06/12

Coles

Great Value. Hands Down. - 6th December

Coles

Selected Weekly Specials 6/12

Kmart

Refresh Summer - Low Prices For Life

Kmart

Christmas Gifting 2 - Low Prices For Life

BIG W

Make Their Christmas Wishes Come True 30/11

The Good Guys

Portables 05/12

The Reject Shop

Christmas Items

Kmart

Christmas Toys 2 - Low prices for life

IGA Liquor

Add A Drop To Your Shop This Christmas 06/12

Kmart

Christmas Launch 2 - Low Prices For Life
What offers can I find in Mildura VIC?
Find the best discounts offered by your favourite shops in Mildura VIC on Tiendeo. See the flyers from Woolworths, Coles, ALDI and don't miss out on any online discounts. Here on Tiendeo, we currently have 428 active catalogues in Mildura VIC and 224 shops.
Mildura VIC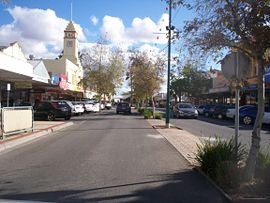 Mildura is famous for its rich earth, big skies and welcoming locals. Murray River, a major attraction in Mildura offers activities like paddle steamer cruises, fishing, cruises and house boat stay. If you have an eye for art deco and cultural activities then you must visit Rio Vista museum. This place is alive with lush green golf course, vineyards, citrus groves, sandy river beaches and endless sunshine. Truly, this place offers a unique mix of diverse societies.
Mildura never disappoints the shoppers as there are over 300 specialty stores in Mildura central business district. Shoppers are spoilt with choice when engaged in Mildura shopping as there are brands like Woolworths, The Reject Shop, Target, JB Hi Fi. Langtree Mall, also known as fashion strip by the discerning shoppers as it houses boutiques that sell leather goods, fashion jewelery, apparels right from the fashion capitals of Australia, Melbourne, Abelaide and Sydney.
In case you are looking for kids wear then Lime Avenue is your destination. There are some of the well-known toy stores and baby supply stores. Also, the Sunday local market looks like thousands of colors splashed on the streets.