Shopping centres in Maryborough QLD View more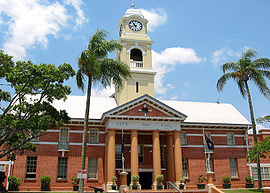 The quaint and beautiful Maryborough city is the house of marvelous heritage sites. A long list of things to do in Maryborough, includes museums, historical buildings, scenic drives, wildlife parks, zoos, and much more. Visit the tranquil Maryborough Caravan Park that is set across the banks of Lake Victoria with your family. The city is also an aquatic delight that offers swimming, diving, sailing, water sports and fishing adventures all around the year.
Maryborough shopping center is a fabulous shopping hub that offers great collectables, fashion and shoe outlets, homewares, arts and crafts gift shops and decorator items. The Maryborough Plaza Bazaar Street and Station Square are truly shoppers' paradise. Some of the brands that you can shop here are Coles, Big W, EB Games, Best & Less, Specsavers, Strandbags, Lowes Express and many more.
In case you are looking for local shopping flavor then make a visit to local streets and shops. There are many local designers that offers amazing collection to choose from.