What offers can I find in Mackay QLD?
Find the best discounts offered by your favourite shops in Mackay QLD on Tiendeo. See the flyers from Woolworths, Coles, Kmart and don't miss out on any online discounts. Here on Tiendeo, we currently have 373 active catalogues in Mackay QLD and 468 shops.
Our users' favourite catalogues
Mackay QLD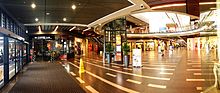 Mackay region is flocked by tourists to explore the natural attraction, enjoy time on deserted palm beaches with the feet playing in the sand or cruise off the coast to some tropical island. If you are looking forward to a romantic getaway in australia then this place gives you the opportunity to walk through the clouds or forest flying in Finch Hatton Gorge.
There are three major shopping centers in Mackay- Caneland Shopping center, Mt pleasant shopping center and The City Heart. Caneland shopping center Mackay is the largest shopping center that is the house of over 130 stores. Some of the popular family fashion stores that you must visit are Bonds, Jay Jays, R M Williams, Sunburn and Connor.
The Mt pleasant shopping center Mackay is also quite popular with shoppers as there are some cool fashion stores like DeZire Intimates, Noni B, Millers, Lowes and Greg Neil. The shoppers can also shop at the City Heart as this place has many International and Australian designer stores for fashion, home, shoes, accessories and jewelery.
Electronics & Appliances

Sport

Pharmacy, Beauty & Health

Books & Hobby

Kids, Toys & Babies

Travel & Leisure