Launceston Shopping Mall

To 2.5 Km

Centro Meadow Mews Shopping Centre

To 6 Km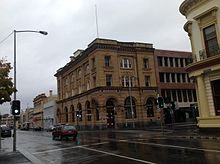 The enchanting and vibrant city of Launceston sits on the merging point of North Erk and South Erk rivers. The city has several attractions and is an important tourist destination in Australia. One of the most important places to visit in Launceston is Cataract George which is a beautiful pathway created to join two banks of George. Apart from it, Launceston is known all over the world for its casinos. You can also visit Launceston aquatic centre.
The city also offers bundles of options for the tourists who have a shopping instinct. One of the top shopping centres in the city is Prospect Vale Marketplace. Here you can shop for brands like Banjos, Charcoal Chicken, FAB coffee bar, Eyelines , ChemMart Chemists, Posh Totty, Fresco's Ice Cream Bar, Mi Lili Boutique, Prospect Beauty, Blade Runner Hairdressing & Victoria's for Flowers. Shoppers also love street shopping in Launceston as street stalls are abundant with good bargains.