Top offers at Horsham VIC
Woolworths

Weekly Specials - 06/12

Coles

Great Value. Hands Down. - 6th December

Kmart

Christmas Gifting 2 - Low Prices For Life

Kmart

Refresh Summer - Low Prices For Life

The Reject Shop

Christmas Items

Kmart

Christmas Toys 2 - Low prices for life

Kmart

Christmas Launch 2 - Low Prices For Life

Coles

Selected Weekly Specials 6/12

TerryWhite Chemmart

Real Deals This Christmas - Standard

Lowes

Gifts For Everyone This Christmas
What offers can I find in Horsham VIC?
Find the best discounts offered by your favourite shops in Horsham VIC on Tiendeo. See the flyers from Woolworths, Coles, ALDI and don't miss out on any online discounts. Here on Tiendeo, we currently have 305 active catalogues in Horsham VIC and 115 shops.
Horsham VIC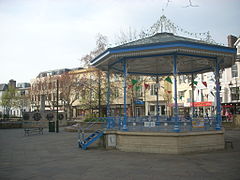 The beautiful Horsham is a regional city located on the banks of Wimmera River Victoria, Australia. Visit the Botanic Gardens, Parkland and ancient red gums line, Horsham Aquatic Centre and the art center with your family to have fun.
Explore the scenic Horsham region that offers stunning views with bushland, mountains and waterways. Stroll along the banks of the beautiful Wimmera River or take a boating tour in the river.
Shopaholics will also not be disappointed as vibrant Horsham offers great shopping experience. Horsham Plaza is a one-stop shopping center that houses wide range of specialty stores like Autograph, Strandbags, Katies, Lowes, EB Games, Jeanswest, Cotton On, Spotlight, The Reject Shop, a Kmart and many more. So, you will find the right clothes, footwear and accessories without much of hassles.
If you are looking something for your kids then Toyworld and Just Juniors of Horsham are iconic children's retail stores located under one roof. Visit fashion stores of Horsham like Pretentious Princess, Vamperella, Gypsy Willow, Rockmans, Katies, Audene's Boutique and others if you truly want something unique and elite.