Top offers at Hervey Bay QLD
Woolworths

Weekly Specials - 06/12

Coles

Great Value. Hands Down. - 6th December

Coles

Selected Weekly Specials 6/12

Kmart

Refresh Summer - Low Prices For Life

Kmart

Christmas Gifting 2 - Low Prices For Life

The Good Guys

Portables 05/12

The Reject Shop

Christmas Items

Kmart

Christmas Launch 2 - Low Prices For Life

Foodworks

Picks Of The Week

Kmart

Christmas Toys 2 - Low prices for life

Cellarbrations

Christmas Drops That Always Hit The Spot 04/12
What offers can I find in Hervey Bay QLD?
Find the best discounts offered by your favourite shops in Hervey Bay QLD on Tiendeo. See the flyers from Woolworths, Coles, ALDI and don't miss out on any online discounts. Here on Tiendeo, we currently have 386 active catalogues in Hervey Bay QLD and 208 shops.
Hervey Bay QLD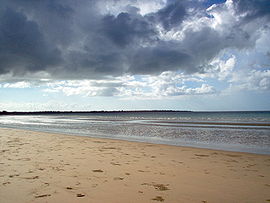 Hervey Bay is also known as the whale watching capital of Australia as whale watchers all over the world flock the city during April and October. Hervey Bay also serves as an easy access to the enchanting Frazer Islands. Apart from it, the long and calm coastline also provides a wide scope for recreational fishing.
Apart from its natural beauty, the city also scores amongst tourists because of the excellent shopping options provided by it. You can either go to the Stockland Hervey Bay Shopping Center which includes several high profile names like Coles, Best and Less, Target, Harris Scarfe, Supa IGA, Ally Fashion, Just Jeans, Katies, Crossroads and Kmart. Pailba Place also offers a good option for shopping as it houses Big W, Loot, Lowes, Millers, Noni B, W. Lane and Rockmans. Apart from luxury brands, these shopping centers have discount stores and super markets also and you can easily get online discount coupons to get a good deal.