Coles

Great Value. Hands Down. - 29th November

Kmart

Christmas Toys 2 - Low prices for life

BIG W

Make Their Christmas Wishes Come True 30/11

The Reject Shop

Christmas Items

Coles

Selected Weekly Specials 29/11

Kmart

Christmas Launch 2 - Low Prices For Life

Kmart

Summer - Low prices for life

Coles

Share The Best with John West

Cellarbrations

Christmas Drops That Always Hit The Spot 20/11

Woolworths

Weekly Specials - 29/11
What offers can I find in Gympie QLD?
Find the best discounts offered by your favourite shops in Gympie QLD on Tiendeo. See the flyers from Woolworths, Coles, ALDI and don't miss out on any online discounts. Here on Tiendeo, we currently have 327 active catalogues in Gympie QLD and 135 shops.
Gympie QLD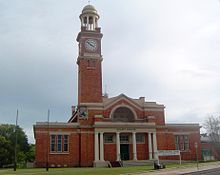 Gympie is a regional town located in Queensland region of Australia. The gorgeous Gympie region is well known for its incredible gold field. This quaint city comprises of myriad historic places that attracts numerous tourists every year. Explore this heritage city by staying at beautiful farms and enjoying horse riding through the lush greenery. Also, enjoy the fishing, sailing, and other outdoor activities when in Gympie.
Apart from its natural and historic attractions, the shopping malls, boutiques and specialty stores also attract the visitors. Gympie Central shopping center has many International as well as local retailers offering fresh food, drinks, fashion, health, groceries, beauty, electronics and more. Some of the brands that you will find here are Angus and Coote, Autograph, Bras N Things, Big W, Homeart, Lowes, Homeart and Gloria Jeans. Other shopping center that you must visit is Goldfields Plaza.
Other stores that you must check when in Gympie are Shoenique, Bitchy Chix Boutique, Tin Can Bay Shoes, Payless Shoes, Goodyear Jewellers and Mia Bella Jewellery.