Grafton Shopping World

To 0.3 Km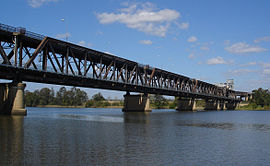 The picturesque city of Grafton is set on the banks of Clarence River about 630 Kilometers north of Sydney. Over the years, Grafton's Jacaranda festival has become very popular attraction for tourists. It takes place on the last week of October and ends with a massive festive parade and firework display. On a visit to Grafton, check out the incredible Woodcraft exhibition and take a stroll around the historic architects. Relax by the banks of the Clearance River to enjoy the stunning view.
Shop at the Grafton shopping world that includes fashion stores, like RM Williams, Jeans West, Noni B, Autograph, City Beach, Sussan, Millers, Black Pepper, Crossroads, Jacqui's Shoe Boutique, Lowes, Man to Man that feature great collection. If you want to pick up local souvenirs and gifts at Grafton shopping center then stores like Sissy's collectables, Corindelo Gifts, Big Banana Gift shop, Aussie Selection, Seltic Thunder are a great option.
Visit Coles Grafton for a wide range of all the necessary home groceries. The famous Grafton street shops includes centrally located stores like Curves, Jetts, Stihil, EB Games, Kmart, Rivers store and more others.