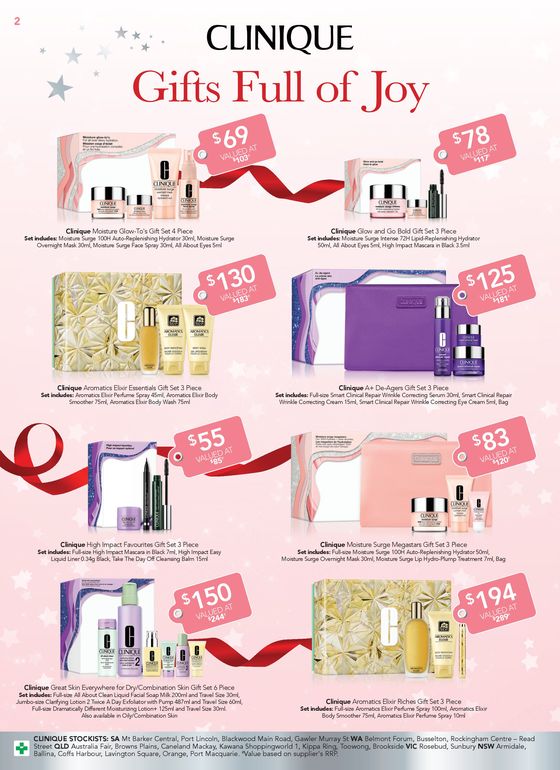 Real Deals This Christmas - Beauty Extra
TerryWhite Chemmart

Real Deals This Christmas - Standard

TerryWhite Chemmart

Real Deals This Christmas

TerryWhite Chemmart

Real Deals Carousel - Catalogue Out Now
TerryWhite Chemmart Offers
Dermaveen Sensitive Sun Invisible Fluid SPF50+ 50ml

Neutrogena Ultra Sheer Body Mist Sunscreen Spray SPF50 - 140g

Aveeno Skin Relief Body Wash 1 litre

Ego QV Gentle Wash 1 litre

Garnier SkinActive Micellar Cleansing Water 700ml

Wart Off Freeze Spray 38ml

Klorane Conditioner with Quinine and Organic Edelweiss 200ml

Klorane Shampoo with Quinine and Organic Edelweiss 400ml

Growth Bomb Hair Growth Spray 185ml

Lady Jayne Everyday Brush Paddle Large 1 each

Novalac Infant Formula Anti-Constipation 0-12 Months 800g
Looking for the best TerryWhite Chemmart offers
If you are looking for the biggest TerryWhite Chemmart discounts you are in the right place. Here on Tiendeo, we have all the catalogues so you won't miss out on any online promotions from TerryWhite Chemmart or any other shops in the Health & Beauty category in your city. There are currently 4 TerryWhite Chemmart catalogues on Tiendeo. Browse the latest TerryWhite Chemmart catalogue "Real Deals This Christmas - Beauty Extra" valid from from 29/11 to until 24/12 and start saving now!
Find TerryWhite Chemmart catalogues in your city
TerryWhite Chemmart, all the offers at your fingertips
TerryWhite Chemmart
With a chain of their leading Terry White chemists across the country, the Terry White pharmacy brand is well trusted across Australia for quality and customers service.
Terry White chemist training is popular across the country, with the Terry White learning seat and Terry White training academy available to qualifying chemists.
Customers interested in finding Terry White chemist locations, including Terry White Coorpoaroo, or details on Terry White chemists rewards plus, can visit their website.
Terry White was founded over 50 years ago.
There are over 165 locations across the country.
There are over 165 locations across the country.
The Terry White extranet can be found online and accessed with a valid login.