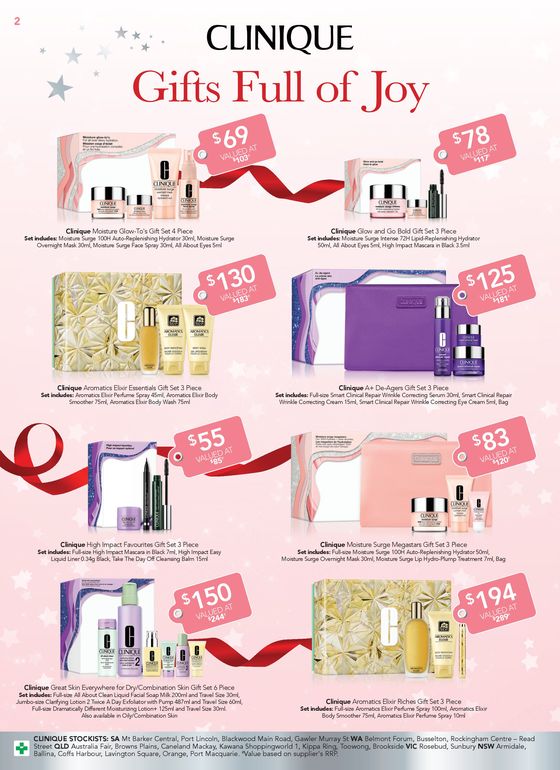 Real Deals This Christmas - Beauty Extra
TerryWhite Chemmart

Real Deals This Christmas - Standard

TerryWhite Chemmart

Real Deals This Christmas

TerryWhite Chemmart

Real Deals Carousel - Catalogue Out Now
TerryWhite Chemmart Specials in Melbourne VIC
Lancome Fragrance Miniatures Set

Lancome Renergie Holiday Set 50ml

Ariana Grande Sweet Like Candy EDP Spray 100ml

Napoleon Perdis Decadent Lustre Phat X Juicy Plumping Lip Gloss Showstopper

Napoleon Perdis Cheeky Desires Liquid Gel Blush Euphoric + Pinch Me

Good Kind Pure Iris Petals Body Mist 250ml

Elizabeth Arden White Tea Mandarin Blossom Body Cream 400ml

Emporium Sable Bottle Vase Set 3 pieces

Emporium Concrete Apple Set 2 Pieces

Emporium Cylinder Cutout Lamp White

Emporium Wood Photo Frame 25cm x 20cm

Davis & Waddell Acacia & Brass Salad Servers Set 2 pieces
Looking for the best TerryWhite Chemmart offers in Melbourne VIC?
If you are looking for the biggest TerryWhite Chemmart discounts in Melbourne VIC you are in the right place. Here on Tiendeo, we have all the catalogues so you won't miss out on any online promotions from TerryWhite Chemmart or any other shops in the Health & Beauty category in Melbourne VIC. There are currently 4 TerryWhite Chemmart catalogues in Melbourne VIC. Browse the latest TerryWhite Chemmart catalogue in Melbourne VIC "Real Deals This Christmas - Beauty Extra" valid from from 29/11 to until 24/12 and start saving now!
Nearest TerryWhite Chemmart stores in Melbourne and surroundings
Catalogues and TerryWhite Chemmart specials in Melbourne and surrounding areas
Terry White Australia is an Australian chain of chemists.
Other Health & Beauty catalogues in Melbourne VIC
Featured products in Melbourne VIC