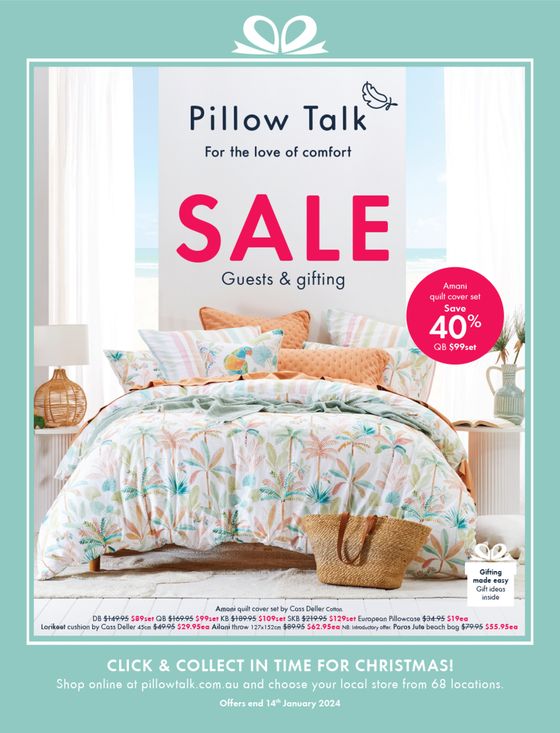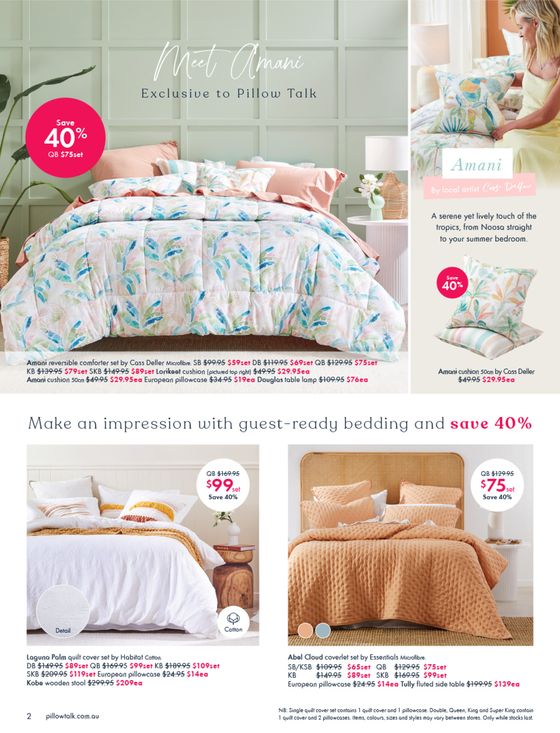 Guests & Gifting Catalogue
Looking for the best Pillow Talk offers
If you are looking for the biggest Pillow Talk discounts you are in the right place. Here on Tiendeo, we have all the catalogues so you won't miss out on any online promotions from Pillow Talk or any other shops in the Home Furnishings category in your city. There are currently 8 Pillow Talk catalogues on Tiendeo. Browse the latest Pillow Talk catalogue "Guests & Gifting Catalogue" valid from from 19/11 to until 14/1 and start saving now!
Find Pillow Talk catalogues in your city
Pillow Talk, all the offers at your fingertips
Pillow Talk
Pillow Talk is one of the most polular home linen store in Australia. Pillow Talk features brands such as Sanderson, Sheridan, Legend and Private Collection. The store features a wide range of sheet sets, quilts, bathroom range, blankets, cushions, table linens, candles and coverlets. The store offers best bedroom furnishings, kids room furnishings, bathroom furnishings, living room furnishings and home decorating accessories.
Check the latest Pillow Talk catalogue and don't forget to grab the very popular Pillow talk pillows and other myriad of color home furnishings. There are over 300 cushion designs to choose, keeping the texture and color of your linen in mind. The reason for the growing pillow talk sale is the emphasis they give on textures, color palettes and fabrics. Also, when shopping online, don't forget to look for the pillow talk promo code to save geat deal of money.
Pillow talk offers Privilege membership to regular customers and rewards them every time they shop.
There are over 48 Pillow Talk stores all over Australia.
You can find over 300 cushion designs, 90 different types of pillows and over 400 quilt cover designs at a Pillow Talk store.
If you are looking for trendy cushions or bath mats, you can get them at as low as $9.95 and $16.