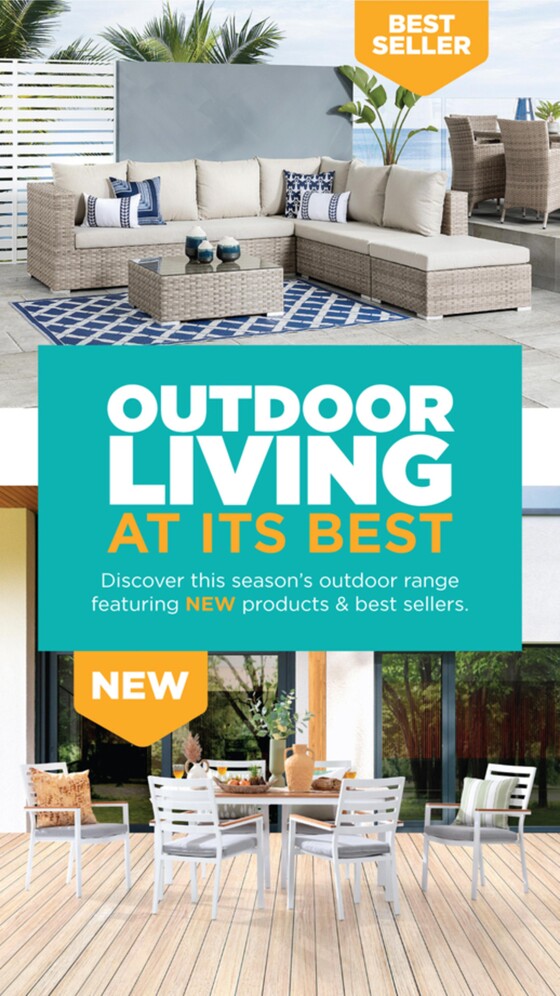 Outdoor Living At Its Best
Looking for the best Amart Furniture offers
If you are looking for the biggest Amart Furniture discounts you are in the right place. Here on Tiendeo, we have all the catalogues so you won't miss out on any online promotions from Amart Furniture or any other shops in the Home Furnishings category in your city. There are currently 2 Amart Furniture catalogues on Tiendeo. Browse the latest Amart Furniture catalogue "Outdoor Living At Its Best" valid from from 28/8 to until 31/12 and start saving now!
Find Amart Furniture catalogues in your city
Amart Furniture, all the offers at your fingertips
Super Amart is a leading furniture and outdoor superstore that is focused on transforming houses into homes!
Knowing Super Amart
Whether you're moving into your first apartment, setting up your brand new house or looking to give your spaces a makeover, you can rely on Super Amart's huge range of products to provide just what you're looking for. Any home, any budget - that's Super Amart's promise to you!
With over 50 stores nationwide, Super Amart provides everything from beds to dining tables and sofas and outdoor settings. Their catalogue is filled with amazing and hottest offers, to beautify and furnish your home on your own budget!
The origins of Super Amart
Super Amart was founded in Brisbane, Queensland in 1970 and has grown to become one of the leading furniture, bedding and outdoor retailers in Australia.
Although the first store was damaged due to the floods in 1974, the business survived because Super Amart was the only store able to supply furniture to all the houses damaged during the floods.
While the founder sold the business and retired in 2006, Super Amart has continued to grow, doubling in size since 2009. The new owners expanded and today Super Amart has a network of 54 stores nationwide while the first store at Kessels Road in MacGregor is still going strong.
Know more about Super Amart
Founded in Brisbane, the Super Amart catalogue, website and stores have quickly become a firm favourite of shoppers looking for furniture, bedding and outdoor products.
Super Amart Townsville, Super Amart Cairns, Super Amart Oxley, Super Amart Rockhampton and Super Amart Toowoomba are some of their most popular locations around the country.
With a full range of Super Amart furniture, including Super Amart beds, customers can find all that they're looking for in store and online.