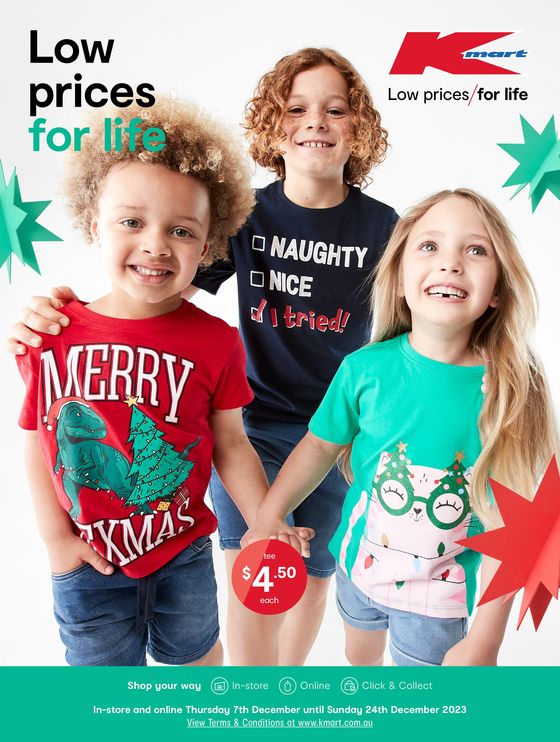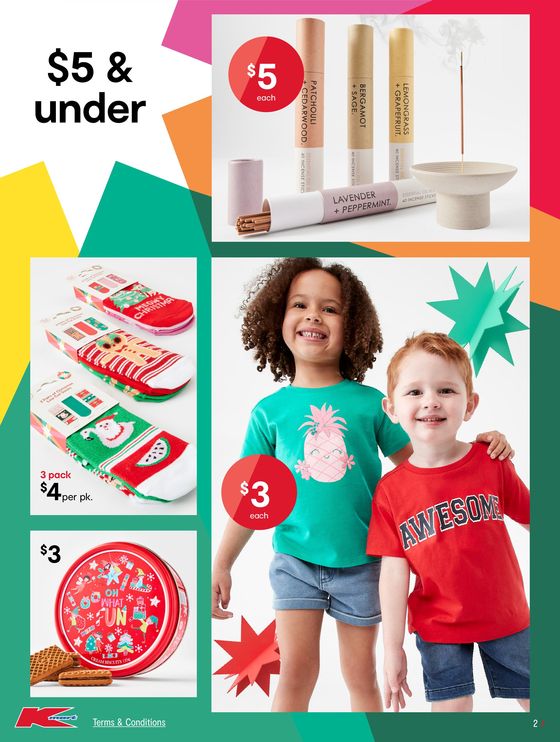 Christmas Gifting 2 - Low Prices For Life
Kmart

Refresh Summer - Low Prices For Life

Kmart

Christmas Launch 2 - Low Prices For Life

Kmart

Christmas Toys 2 - Low prices for life

Kmart

Summer - Low prices for life
Short Sleeve Poplin Print Shirt

Sleeveless Broderie Detail Mini Dress

Double Buckle Footbed Slides - White

Butterfly Headband - Pink

Australian Grown Cotton Crew Neck T-shirt

Front and Back Bright Graphic Muscle
Looking for the best Kmart offers
If you are looking for the biggest Kmart discounts you are in the right place. Here on Tiendeo, we have all the catalogues so you won't miss out on any online promotions from Kmart or any other shops in the Department Stores category in your city. There are currently 5 Kmart catalogues on Tiendeo. Browse the latest Kmart catalogue "Christmas Gifting 2 - Low Prices For Life" valid from from 6/12 to until 24/12 and start saving now!
Find Kmart catalogues in your city
Kmart, all the offers at your fingertips
Kmart Australia is a multi-brand discount retail chain that assures lowest prices on almost all everyday products to its customers. Their slogan is "We make low prices irresistible".
Knowing Kmart
Kmart is Australia's premier discount departmental store that has been operating since 1969. It operates 190 stores in Australia, with its head office located in Mulgrave, Melbourne. To supplement the success of the offline stores, it also has an exhaustive Kmart online shopping store. The retailer mainly deals with home entertainment goods, photographic equipment and developing, camping and fishing goods, sporting goods, toys, kitchenware, small appliances, storage & home organisation, confectionery, stationery, books, cards & party goods, furniture, garden supplies, automotive equipment, bikes, lighting, hardware, luggage, cosmetics, clothing and shoes. Check out the Kmart Catalogue and get amazing specials and promo codes. For Kmart opening hours and location of stores near you, browse the website for store information.
The origins of Kmart
Kmart Australia was a joint venture between G.J Coles & Coy Limited and S.S. Kresge Company in the United States. They began to develop Kmart stores in Australia in 1968. Kmart first store opened in Burwood East, Victoria. Kmart has established themselves as a reputable discount department store. With over 200 stores across Australia and New Zealand and another 40 new stores planned, their aim is to provide an environment which is welcoming to our customers so they will come back time and time again. To stay updated with the latest Kmart products, offers, and discounts, you can visit their online catalogue.
Interesting facts about Kmart
Some interesting facts about Kmart
2.5 million customers on average are served by Kmart each week.
20th April 1997 is when Kmart Burwood became the first Kmart Australia store to trade 24 hours.
Kmart is the third largest discount store in the world, just behind Walmart and Target.
The Kmart community program is committed to supporting few organizations in their work. Here are some of the ways Kmart and its customers are supporting local communities.
Kmart Wishing Tree Appeal - Kmart's Wishing Tree Appeal began in 1988 and since it began the Appeal has raised more than six million gifts that have been donated and distributed to those in need.
Kmart Spare Change Coin Collection - Through donations made at collection boxes, customers have helped provide wonderful support to a range of community groups and charities.