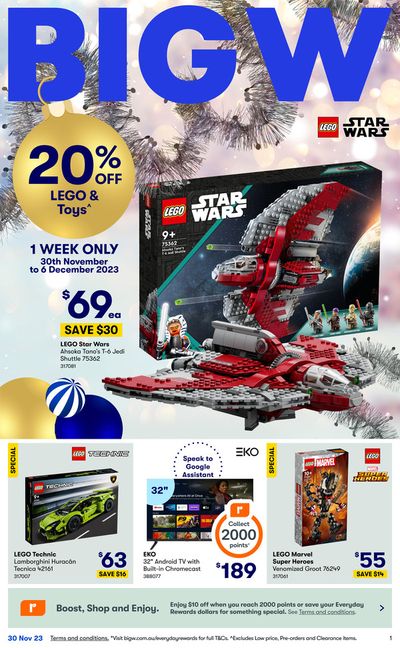 Make Their Christmas Wishes Come True 30/11
Looking for the best BIG W offers
If you are looking for the biggest BIG W discounts you are in the right place. Here on Tiendeo, we have all the catalogues so you won't miss out on any online promotions from BIG W or any other shops in the Department Stores category in your city. There is currently 1 BIG W catalogue on Tiendeo. Browse the latest BIG W catalogue "Make Their Christmas Wishes Come True 30/11" valid from from 29/11 to until 13/12 and start saving now!
Find BIG W catalogues in your city
BIG W, all the offers at your fingertips
BIG W is an Australian discount store, offering a wide range of products from household goods, sports gear and toys, books, electronics, affordable clothing, shoes and more!
Knowing BIG W
BIG W is one of the first Australian discount department stores to operate across the country.
BIG W is essentially a discount store and thus, there is a weekly catalogue that features the ongoing offers and deals. You can view this BIG W catalogue here! In adition to the catalogue, you can find several promotional coupons and promo codes that are accepted for this retailer. You can look for them here and save!
With a dedicated fashion designer to maintain its design standards of quality while keeping them affordable, BIG W is a popular stop for shopping enthusiasts. Apart from affordable clothing, BIG W also has an extensive range of household goods, baby gear, electronics, sportswear, sports gear and toys.
Don't miss out on the famous BIG W Toy Sale on every year!
See BIG W trading hours and store locations near you here!
Also, they have BIG W Photos where you can order Digital Photo Prints Online!
The origins of BIG W
Founded as a discount deparment store at Jesmond, near Newcastle in regional New South Wales in 1964, BIG W currently has more than 130 stores Australia-wide.
The BIG W brand was developed by Woolworths Limited to provide Australian shoppers with a broad range of general merchandise products in a dedicated one-stop-shop. The BIG W brand still retains the relational identity that it shares with Woolworths, by keeping the "W" intact in its name.
More info about BIG W
In 2007, selected stores of BIG W across various states, offered Optometry services. BIG W launched its first Party store at Rouse Hill in 2014. This retailer was the first company in Australia to use self-serve checkouts, which were introduced in 2003.
BIG W runs a number of competitions throughout the year and shoppers can win amazing prizes. Visit some BIG W store to find out more!
Another great thing about this stores is that you can shop their products online. They stock a range of popular brands such as Peter Morissey, Bonds, King Gee, Fisher Price and Disney. By signing to alerts at Tiendeo Australia, you'll find out about BIG W promo codes!
Visit your nearest BIG W store today!