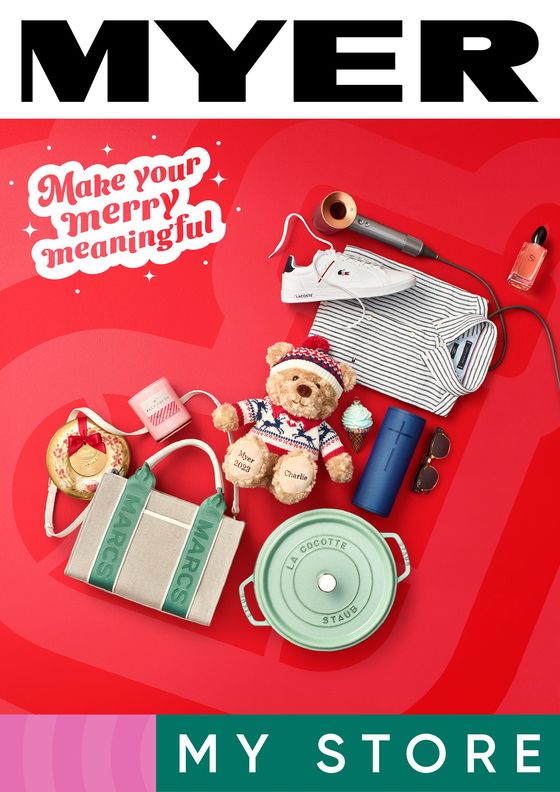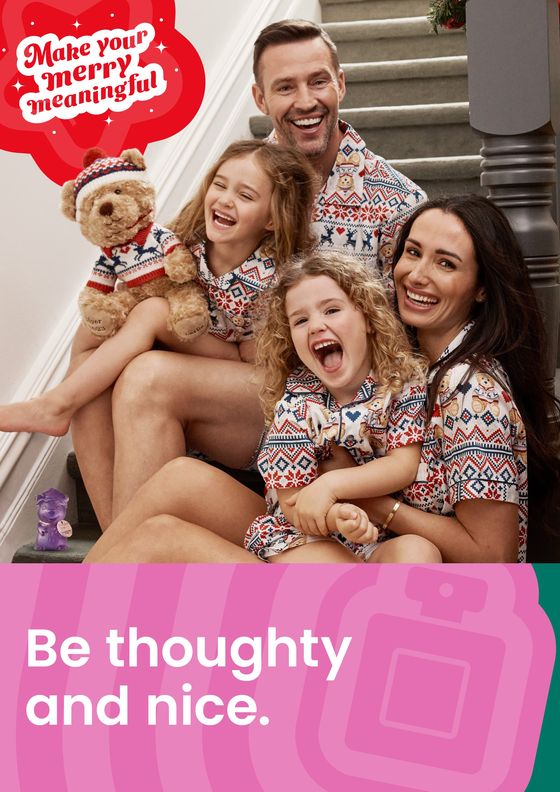 Make Your Merry Meaningful- Christmas 1
Myer

Make Your Merry Meaningful - Christmas 4

Myer

Make Your Merry Meaningful - Christmas Toys
The Grinch Women's PJ Set

Miss Shop Tennessee Shoulder Bag in Green

MOR Hypnotic Delights Hand Cream Quartet

Blaq Keyring and Sock Gift Pack

Edinburgh Preserves Barbeque Gift Box 750g

Joseph Joseph Sipp Travel Mug 340ml

Piper Pearl Bead Necklace

Piper Pearl Huggie Earring

Piper Delicate Pearl Ring
Looking for the best Myer offers
If you are looking for the biggest Myer discounts you are in the right place. Here on Tiendeo, we have all the catalogues so you won't miss out on any online promotions from Myer or any other shops in the Department Stores category in your city. There are currently 3 Myer catalogues on Tiendeo. Browse the latest Myer catalogue "Make Your Merry Meaningful- Christmas 1" valid from from 31/10 to until 24/12 and start saving now!
Find Myer catalogues in your city
Myer, all the offers at your fingertips
Myer is Australia's largest department store group and has been synonymous with style and fashion for over 100 years. They are famous for biggest brands, low prices and a huge range.
Knowing Myer
Myer's has long been Australia's largest department store by revenue and also by store count. Myer has 67 stores in prime retail locations across Australia that is complemented by well-recognised brand and supported by well-developed Myer online and mobile platform where shoppers can check the collection and choose as per their taste, needs and budget. The Myer merchandise offer includes womenswear, menswear, childrenswear, intimate apparel, beauty, fragrance and cosmetics, homewares, electrical goods, toys, footwear, handbags and accessories; and General merchandise. The vibrant, beautiful and perfect collection is what shoppers get to see at Myer stores.When shopping at Myer store sales, remember to use Myer coupons that you can easily find online. To stay updated with the latest collection, offers and discounts, you can visit their online catalogue.
The origin of Myer
Myer was founded in 1899 by Sidney Myer in Bendigo, and today have approximately 13,000 team members across Australia. Myer places stores into one of four clusters, which reflects the store specific shopper demographics. The cluster determines the merchandise mix, brand assortment, services offered, and capital expenditure. Myer operates 67 stores across Australia with a turnover in excess of $3 billion annually. Myer store is strategically located in metropolitan and regional areas, and tailored to the area it serves. In 2014, Myer rebranded its store marketing, involving a large advertising campaign starring Australian actress, Tilda Cobham-Hervey. The campaign was launched to refresh the Myer brand and to reposition the store's focus on younger, more contemporary, consumers. Also changed their tagline "is my store", to "find wonderful". In October 2007, Myer launched an online store, including electronic goods, perfumes, miss shop clothing and gift cards.
Know more about Myer
Each year, every Myer store nominates a local charity and the store team members raise funds for their nominated organisation and specific project relating to women and families. Myer partners with some of the leading organisations like White Ribbon, Global Sisters, The Salvation Army seeking to address measures of change, prevention and meeting the needs of the vulnerable for a safer future.
Myer offers 'Click & Collect' option and also 'Free Delivery' for all orders above $100. You can also join the Myer One club and get access to several exciting rewards. The membership is free and enables you to get 2 credits for every $1 spent. The Myer Gift Card is the gift of choice. Grab a Myer Gift Card, it's the gift that everybody loves.If you are an online shopper, you must not miss the Hot Deals section that offers amazing range of products.