Busselton Boulevard Shopping Centre

To 0.2 Km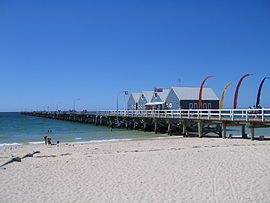 Enjoy an ultimate holiday at the southwest Australian City of Busselton. Myriad diverse attractions will keep you entertained, making it a holiday to remember. From serene beaches to rocky cliffs, surfing coasts to prehistoric caves, fabulous vineyards to adventured forests and much more are all available at this quaint city.
The spectacular Busselton timber-piled Jetty has become a popular tourist attraction in Western Australia. Rejuvenate and relax at the gorgeous resorts like Bayview Busselton, Beachlands Holiday Park, Siesta Park or the Busselton holiday park. Stunning beaches with tranquil beauty are relaxing yet mesmerizing.
Relish a delightful shopping experience at the Busselton shopping center that comprises of 16 specialty stores. Shop for fashionable apparels at local stores like Jeans West, Just Jeans, Best and Less, Noni, Spend-Less Shoes, Priceline, Factorie and Rockmans. Make sure that you check out the Fusion Jewelers that offers rare collection of accessories with designs inspired by the earth and sea. Also visit Prouds, jewelry store that deals in exclusive designs.