Woolworths

Weekly Specials 06/12

Coles

Great Value. Hands Down. - 6th December

Coles

Selected Weekly Specials 6/12

Kmart

Refresh Summer - Low Prices For Life

Kmart

Christmas Gifting 2 - Low Prices For Life

The Good Guys

Portables 05/12

The Reject Shop

Christmas Items

TerryWhite Chemmart

Real Deals This Christmas - Standard

Kmart

Christmas Launch 2 - Low Prices For Life

Liquor Barons

Christmas Sale
What offers can I find in Bunbury WA?
Find the best discounts offered by your favourite shops in Bunbury WA on Tiendeo. See the flyers from Woolworths, Coles, ALDI and don't miss out on any online discounts. Here on Tiendeo, we currently have 458 active catalogues in Bunbury WA and 284 shops.
Bunbury WA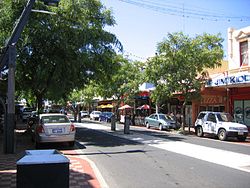 Bunburry promises a diverse range of holiday experience and known as City of ThreeWaters and an aquatic playground. The rumbling surf of Koombana Bay, Indian Ocean and Leschenault Inlet gives vacationers an excellent opportunity to indulge in water based activities. The old world charm coupled wth major city attractions, Bunburry is a favored holiday destination. The city is also called Western Australia's dolphin capital as these beautiful creatures regularly visit Koombana Bay.
Bunberry offers great shopping experience and assures retail therapy to the shoppers amid the relaxed setting. In addition to shopping centers there are several boutiques and specialized stores. Bunbury Forum Shopping Centre is a well-known and house to retail stores such as Woolworth, Big W, Progressive Supa IGA, Jeanswest, Strandbags, Bras N Things and Suzzane Grae.
The other very popular shopping center is Bunbury centrepoint shopping centre as it is the home to some of the best fashion, lifestyle, home, beauty, health and footwear stores such as Dotti, Betts, Roger David, Strandbags, Black Pepper, Simply Healthy and Zamels. When shopping in Bunbury at these shopping centers, remember to look for deals online at deals website or with customer care center.