Kmart

Christmas Launch 2 - Low Prices For Life

Kmart

Summer - Low prices for life

Aeroplane Jelly

Bring Some Colour To The Table This Christmas

Coles

Selected Weekly Specials 29/11

Coles

Great Value. Hands Down. - 29th November

PopCorners

PopCorners 5 Packs, 2 for $7

Kincrome

Product Guide 2022/23

Woolworths

Weekly Specials 29/11

Coles

Share The Best with John West
What offers can I find in Broome WA?
Find the best discounts offered by your favourite shops in Broome WA on Tiendeo. See the flyers from Woolworths, Coles, Kmart and don't miss out on any online discounts. Here on Tiendeo, we currently have 214 active catalogues in Broome WA and 87 shops.
Broome WA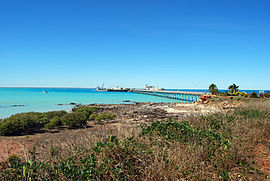 Broome is a coastal city located in the Kimberley region of Western Australia. This amazing Broome attraction includes places like the Cable beach, Roebuck Bay, Horizontal Falls, Cape Leveque, Broome Bird Observatory and Rowley Shoals. This is a family holiday destination in Australia as you can enjoy activities like Camel ride, hovercraft, diving, fishing, swimming, aerial flights and boating. So, there is something for people of all age groups.
After you have done with the sight-seeing, it is now time to go on a shopping spree. The Broome Boulevard Shopping Center is a brilliant shopping destination as it is the house to fashion stores like Ed Harry, Cool Change, Wet 'n' Wicked, Jay Jays, Bright Eyes Sunglasses, Jeans West, Prouds and Mundaka Jewelers. These stores feature great collection for people of all age and taste.
If you have not found what you were looking for, visit the Broome shopping center Western Australia. It has stores like Coles, Best and less and Australia post in addition to 20 other specialty stores. Pick up local gift and souvenirs Broome from domestic stores like Simple Broome, True Blue, monsoonal Blues and Rainsong Design.