Top offers at Bendigo VIC
Woolworths

Weekly Specials - 06/12

Coles

Great Value. Hands Down. - 6th December

Coles

Selected Weekly Specials 6/12

BIG W

Make Their Christmas Wishes Come True 30/11

Kmart

Refresh Summer - Low Prices For Life

Kmart

Christmas Gifting 2 - Low Prices For Life

The Good Guys

Portables 05/12

The Reject Shop

Christmas Items

Kmart

Christmas Launch 2 - Low Prices For Life

IGA Liquor

Add A Drop To Your Shop This Christmas 06/12
What offers can I find in Bendigo VIC?
Find the best discounts offered by your favourite shops in Bendigo VIC on Tiendeo. See the flyers from Woolworths, Coles, ALDI and don't miss out on any online discounts. Here on Tiendeo, we currently have 549 active catalogues in Bendigo VIC and 336 shops.
Bendigo VIC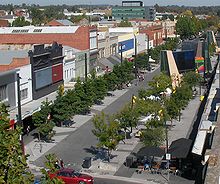 Bendigo is an amazing tourist destination in Australia as it is an eclectic mix of historic beauty and cosmopolitanisms. This city boasts of vibrant regional center, beautiful streets and amazing shopping streets and centers.
The biggest shopping center here, Central Victoria will not disappoint the shoppers. It features more than 100 specialty retail stores like Dick Smith, Big W, Autograph, Bras N Things, Colette, Dusk, House and many more. The next destination where shoppers must go is Hargreaves mall. It is an outdoor shopping center located in the heart of Bendigo's central business district. The mall feature shopping stores like Miss Jayz, Big W and many more. When shopping at the shopping centers, don't forget to check for the discount deals and coupons either online or with the customer desk in the mall.
There are number of fashion and clothing stores, home décor stores and jewelry stores in Bendigo that feature best of the collection from both Australian and International designers.