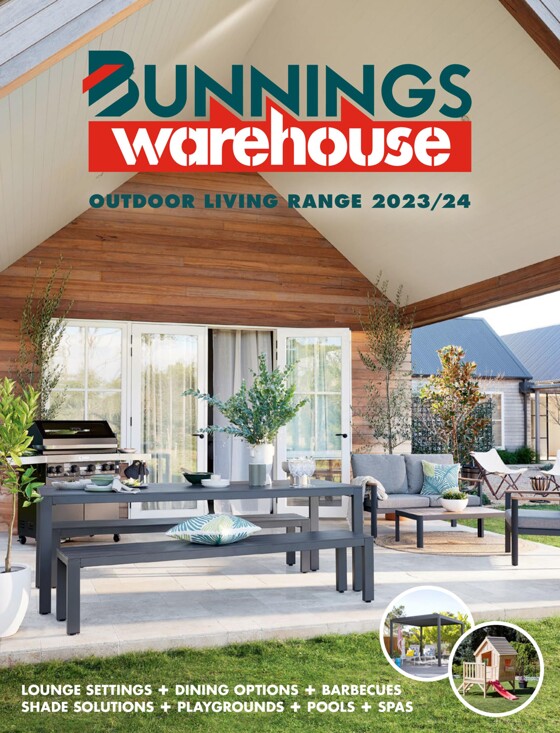 Outdoor Living Range 2023/24
Bunnings Warehouse

Community Report Card 2023

Bunnings Warehouse

Outdoor Living Range 2022/23

Bunnings Warehouse

Make It A Christmas To Remember

Bunnings Warehouse

December 2023

Bunnings Warehouse

Christmas Made By Ryobi One+
Looking for the best Bunnings Warehouse offers
If you are looking for the biggest Bunnings Warehouse discounts you are in the right place. Here on Tiendeo, we have all the catalogues so you won't miss out on any online promotions from Bunnings Warehouse or any other shops in the Hardware & Auto category in your city. There are currently 6 Bunnings Warehouse catalogues on Tiendeo. Browse the latest Bunnings Warehouse catalogue "Outdoor Living Range 2023/24" valid from from 3/9 to until 31/12 and start saving now!
Find Bunnings Warehouse catalogues in your city
Bunnings Warehouse, all the offers at your fingertips
Bunnings Warehouse is the go-to retailer for a wide range of home improvement and outdoor-living products!
Knowing Bunnings Warehouse
Bunnings Warehouse is undoubtedly the go-to-place when it comes to home designing or remodeling.
Bunnings Warehouse offers a number of in-store services such as color matching, DIY workshop, key cutting, tool hire shop and special kid's activities. You can check the Bunnings warehouse catalogue to know the best deals and have a look at the widest range of products to choose from. When shopping online don't forget to use the Bunnings store promo codes.
Bunnings warehouse give a lowest price guarantee to their customers and promise to beat it by 10%, if you ever find so.
There are 223 Bunnings warehouse, 33 trade centers and 64 small format Bunnings stores across Australia and New Zealand.
The origins of Bunnings Warehouse
Bunnings was founded in Western Australia in 1887, by two brothers who had immigrated from England. Initially a limited company focused on sawmilling, it became a public company in 1952 and subsequently expanded into the retail sector, purchasing several hardware stores. Bunnings began to expand into other states in the 1990s, and opened its first warehouse-style store in Melbournein 1994. The chain currently has over 300 stores and over 30,000 employees. Bunnings has a market share of around 20 percent in the Australian retail hardware sector!
Know more about Bunnings Warehouse
On weekends, Bunnings outlets regularly host sausage sizzles and cake stalls for community groups and causes. Having become a ubiquitous part of the Bunnings Warehouse brand, its sausage sizzles have reached iconic status within the Australian public.
Bunnings also provides gardening, craft, and woodwork Do it yourself (DIY). workshops for children in store, as well as for other groups in schools, nursing homes, and hospitals. The Bunnings staff is available to community groups for assistance with D.I.Y. projects. If you are a DIY lover, you can certainly take benefits of Bunnings Warehouse Hire Shop to rent expensive machines and equipment.