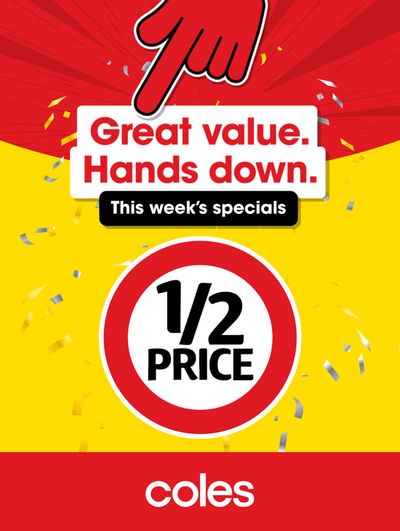 Selected Weekly Specials 6/12

Looking for the best Coles offers
If you are looking for the biggest Coles discounts you are in the right place. Here on Tiendeo, we have all the catalogues so you won't miss out on any online promotions from Coles or any other shops in the Groceries category in your city. There are currently 2 Coles catalogues on Tiendeo. Browse the latest Coles catalogue "Selected Weekly Specials 6/12" valid from from 3/12 to until 12/12 and start saving now!
Find Coles catalogues in your city
Coles, all the offers at your fingertips
Coles, is an Australian supermarket chain owned by Wesfarmers, known for providing top quality products, great value and outstanding customer services. Have a look at Coles catalogue for an awesome range of products.
Knowing Coles
Coles loves everything about quality Australian food. Their mission is to provide quality food at affordable princes. Coles supermarkets offer a wide range of products that include dairy, seafood, bakery, fish, veggies, fresh fruit, meat, liquor, special diet foods, bread products, pantry, drinks, frozen foods, healthy, household, cosmetics, stationery, pet products, electronics, baby products and clothing. Coles online store features a complete range of products at unbeatable prices. Coles Finest, Coles Organic, Coles Simply Less and Coles Simple Gluten Free are the private food brands of Coles that serve different customer choices. Coles have a valuable footprint of 817 stores in prime retail locations across Australia. This retailer has all types of ways to save, including different promotions, weekly specials, clearance items or ways to earn points. Check out Coles online catalogue for this week to know more!
The origin of Coles
On 9 April 1914 G.J. Coles opened the first Coles store in Smith St, Collingwood, Victoria. The headquarters of Coles is in Hawthorn East, Melbourne. In April 2014, Coles celebrated its 100th birthday - that's a whole century dedicated to giving Aussie families the products they need for a happy, healthy home life, at prices they can afford. Coles have over 100,000 employees and their tagline is 'A little better every day'.
Coles is famous for its wide range of products fresh veggies to bakery products, but they also have personal care products and pet supplies. Sales and offers take place year-round, and there are always lots of clearance items. But keep in mind that their regular prices are a good deal in themselves! To stay in the loop, subscribe to Coles online shopping. We guarantee the absolute best prices out there!
Know more about Coles
Coles have a responsibility to their customers, suppliers, the community and the environment. Their focus is simple, to continue to work towards a sustainable future. Coles proudly supports a number of charity partners throughout Australia and work together with our team members and customers to raise funds and awareness of these worthy causes. Some of the organizations which are supported by Coles are like Redkite, Bravery Trust, Second Bite, Foodbank, Red Dust, Cancer Council
Coles Online is the company's online shopping service which offers 'click & collects' and home delivery. Order online and get delivery straight to your kitchen bench! From as little as $5, gift giving is easy with a Coles Gift Card. So next time you're stuck for a gift idea pick up a gift card in Coles store.