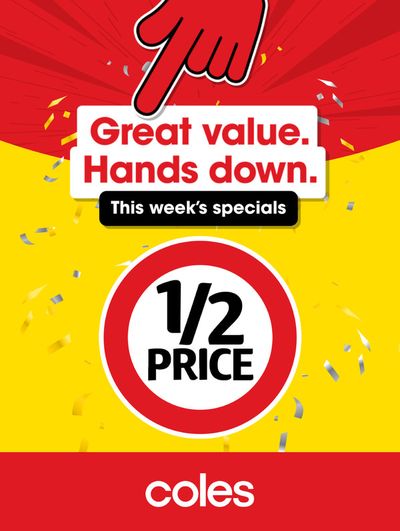 Selected Weekly Specials 29/11
Coles

Great Value. Hands Down. - 29th November

Coles

Share The Best with John West
Coles Specials in Melbourne VIC
Coles Beechwood Smoked Half Leg Ham

Colgate Sensitive Pro Relief Toothpaste 110g

Coles Entertaining Mini Pork Sausage Rolls 550g

Black Swan Favourites Dip 200g

Kettle Potato Chips 150g-165g

Nivea Sun Protect & Moisture Sunscreen Spf50+ 400ml

Finish Quantum Ultimate Pro Dishwashing Tablets 46 Pack

Arnott's Shapes Crackers 130g-225g

Peters Drumstick 4 Pack-6 Pack 475ml-490ml

Castello Creamy Blue Cheese 300g

Cadbury Chocolate Coated Fruit Jar 190g-340g

Darrell Lea Bullets 180g-280g
Looking for the best Coles offers in Melbourne VIC?
If you are looking for the biggest Coles discounts in Melbourne VIC you are in the right place. Here on Tiendeo, we have all the catalogues so you won't miss out on any online promotions from Coles or any other shops in the Groceries category in Melbourne VIC. There are currently 3 Coles catalogues in Melbourne VIC. Browse the latest Coles catalogue in Melbourne VIC "Selected Weekly Specials 29/11" valid from from 26/11 to until 5/12 and start saving now!
Nearest Coles stores in Melbourne and surroundings
Catalogues and Coles specials in Melbourne and surrounding areas
Coles supermarket is committed to providing Australian families, with their grocery needs for a healthy and happy life at affordable prices. Coles offers a wide range of products from fresh fruit & veggies to baby products with amazing specials and offers. See Coles opening hours and store locations near you in their website!
Featured products in Melbourne VIC